Juice of one medium beet plus enough carrot juice to make 16 oz
½ cup walnuts (soaked overnight and drained)
Juice of ½ Meyer lemon
1 clove of garlic (peeled)
¼ inch ginger root
1 Tbsp raw unfiltered honey
1 tsp unrefined sea salt (Celtic or Himalayan)
1 cup beet (finely shredded)
½ cup carrot (finely shredded)
1 celery rib (diced fine)
½ cup green onions (chopped fine)
½ cup cabbage (shredded or chopped fine)
1 tsp paprika

1. Place blender ingredients in a Vitamix, Blendtec or other powerful blender.
2. Blend until creamy and pour into a large bowl.
3. Add fold-in ingredients and stir to mix well.
4. If too thick, add a little distilled water to reach desired consistency.
5. Serve immediately or gently warm (but do not cook).

Shiitake Mushroom Miso Soup
As featured in Health News Issue #71.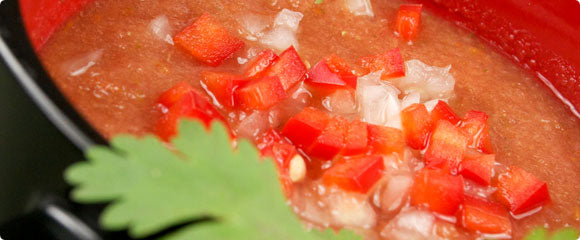 Raw Tomato Soup
This is a thick, hearty soup. From this basic r...