8 cups Simple Vegetable Soup Stock
14 oz can organic unsalted Italian tomatoes (with juice)
15 oz can organic garbanzo beans
15 oz can organic red kidney beans
1 cup carrots (cut into small thin chucks)
1 cup finely shredded cabbage
1 cup celery (1/4 inch cuts)
1 cup onion (diced)
½ cup fresh parsley (minced "" or 1 Tbsp dried)
2 cloves garlic (minced)
½ tsp dried oregano
½ tsp dried basil
½ tsp thyme
1 tsp Celtic or Himalayan Salt (or to taste)
1 package spiral noodles (prepare according to directions and set aside)
Organic ingredients are always recommended.

1. Drain and rinse kidney and garbanzo beans.
2. Mince garlic and parsley, chop carrots, onion, celery, cabbage, and saute in a small amount of soup stock until onions are translucent.
3. In a large soup pot, place soup stock, tomatoes and all remaining ingredients.
4. Simmer until cabbage is tender.
5. Do not add set-aside spiral noodles to soup pot or they will lose their form.
6. To serve, place some set-aside noodles in soup bowl, ladle soup over the noodles and serve.

Shiitake Mushroom Miso Soup
As featured in Health News Issue #71.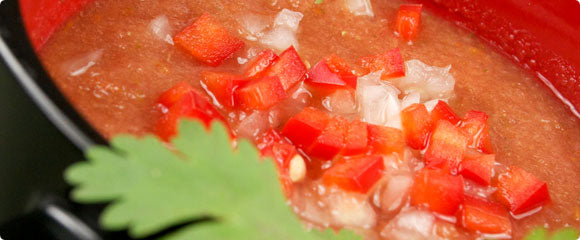 Raw Tomato Soup
This is a thick, hearty soup. From this basic r...