2 cups blended tomatoes, quartered (or substitute with vegetable soup stock)
2 ribs celery, cut in 1-inch pieces
1 lb asparagus
1/2 cup almonds
1/8 tsp thyme
1/8 tsp oregano
1/8 tsp basil
Celtic Sea Salt to taste
Water if needed for thinner consistency

1. Soak almonds overnight and drain.
2. Remove tough ends from asparagus and discard.
3. Remove ½ spear heads from asparagus and set aside for garnish.
4. Grind almonds into a fine meal.
5. Combine all ingredients in the blender or food processor.
6. Process to desired consistency. If too thick, add a little water.
7. Use reserved tips for garnish.

Shiitake Mushroom Miso Soup
As featured in Health News Issue #71.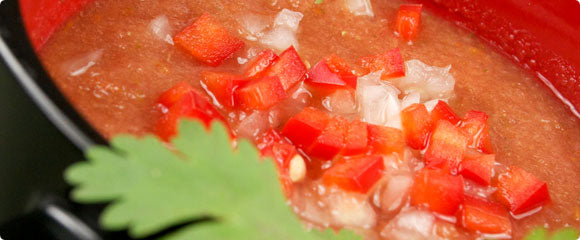 Raw Tomato Soup
This is a thick, hearty soup. From this basic r...