3 cups distilled water
3 medium sized sweet potatoes (peeled, shredded, and soaked overnight)
1 large red onion (peeled and quartered)
1 red pepper (seeded and quartered)
1 garlic clove (peeled)
3 sweet apples (peeled, quartered, and seeded)
1 tsp Chinese Five-Spice powder
1 tsp cinnamon
1 tsp Celtic or Himalayan Sea Salt

1. Place all ingredients in a Vitamix or other powerful blender and blend until smooth.
2. This soup may be served warm, but do not bring to a boil (beneficial, living enzymes will be lost).
3. NOTE: Chinese Five-Spice is a seasoning used especially in Chinese cooking, consisting of ground cinnamon, clove, anise, fennel and peppercorn powders.

Shiitake Mushroom Miso Soup
As featured in Health News Issue #71.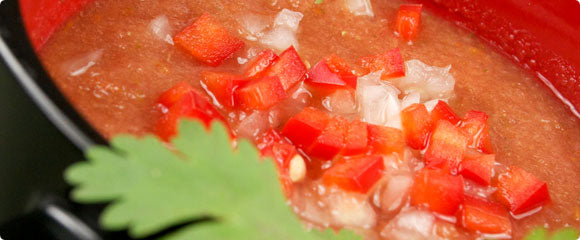 Raw Tomato Soup
This is a thick, hearty soup. From this basic r...