3 cups distilled water
½ cup almonds (soaked overnight and drained)
3 cups tender asparagus (cut into 1" pieces)
1 ripe avocado (peeled and pitted)
½ cup zucchini (chunked)
¼ cup fresh dill weed (or 1 teaspoon dried)
2 Tbsp fresh lemon juice
¾ tsp Celtic or Himalayan Salt (optional)
Pinch of cayenne pepper
1 ear fresh corn (kernels removed for garnish) or frozen

1. Place all ingredients except corn into Vita Mix blender (or other very powerful blender) and blend until creamy.
2. Pour into bowls and top with fresh corn as a garnish.
3. Serve immediately.

Raw Holiday Celery Soup
Here's a savory soup to serve before the main c...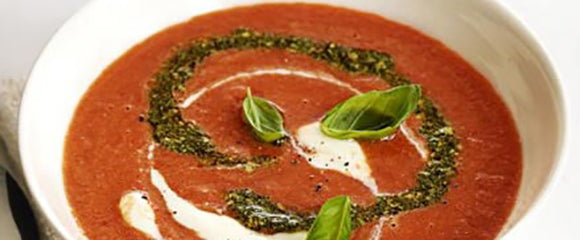 Blushing Tomato Soup
Flavorful and refreshing. This chilled soup is ...