1 cup quinoa, uncooked
2 cups water OR organic veggie broth
1 can Navy or Cannellini Beans
8-10 white button mushrooms, finely chopped
3 stalks celery, finely chopped
½ red bell pepper, finely chopped
1 small to medium onion, finely chopped
5-6 cloves of garlic, minced
2 T. nutritional yeast, or to taste
1 T. lemon juice
1 tsp. cumin
1 tsp. smoked paprika (I like the smoky flavor, but if you don't, sweet paprika is fine too)
¼ tsp. cayenne pepper, or to taste
½ cup almond flour
2 tsp. sea salt, or to taste
Freshly ground black pepper to taste
1-2 tsp. coconut oil for sautéing
1. In a small covered pot, bring the quinoa and 2 cups water or veggie broth to a boil.
2. Reduce heat to medium-low, and simmer with the lid slightly cracked until all the liquid has been fully absorbed, approx. 15 min.
3. While the quinoa is cooking, heat coconut oil in a large pan over medium heat.
4. Add in your mushrooms, celery, bell pepper, onion and garlic, and sauté for 5-6 min until cooked through and soft.
5. Season with 1 tsp. of sea salt, cumin, paprika, and cayenne pepper, and sauté for one more minute.
6. Rinse your beans, and drain well.
7. In a food processor, combine the beans, half of your sautéed veggies, and half of the cooked quinoa, and pulse lightly until most of the beans are broken up.
8. Remove mixture, and add to a mixing bowl with the rest of the quinoa and veggies.
9. Add in the lemon juice, nutritional yeast, and almond flour.
10. Mix everything together well, but be careful if using your hands, as the mixture may be hot.
11. Taste, and add in the leftover tsp. of sea salt to your liking, along with freshly cracked black pepper.
12. Form into patties 1/2"-3/4" thick using your hands or a burger mold.
13. Sear the patties in a pan or heavy-bottom skillet, with a little bit of coconut oil, over medium to medium-high heat until golden brown and crispy on each side.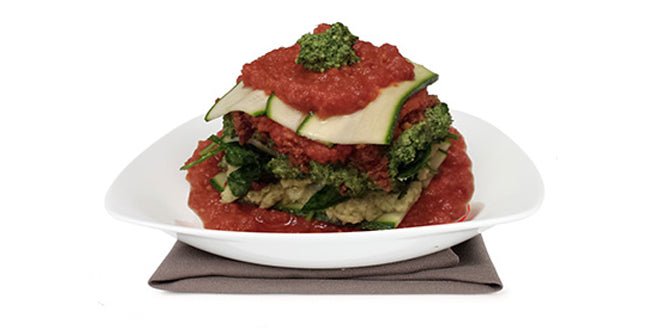 Live Lasagna
A satiating Italian dish seems like something y...
Can't Stop the Beet Juice
Serves 2 This recipe is gluten-free This reci...