4-6 large Portobella mushroom caps (one per person)
1 mango, peeled, seeded, and chopped
1 cup chopped pineapple
½ cup chopped onion
1 small avocado, peeled seeded and chopped (optional)
1/2 cup chopped cilantro
2 Tbsp fresh lime juice
¼ tsp ground cumin

1. Mushrooms
2. Lightly brush extra virgin olive oil over caps. Lay cap side down on grill.
3. Drizzle approximately 1 tsp olive oil around underside.
4. Grill several minutes on each side until tender and juicy.
5. *Oven method: Bake on a cookie sheet approximately 8-9 minutes, turning half way through.
6. Chutney
7. Stir ingredients until well mixed.
8. Ladle several spoonfuls over whole or sliced portabella.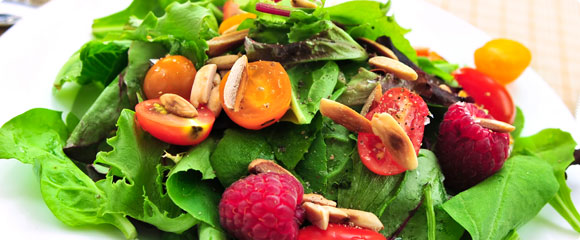 Rhonda's Raspberry Vinaigrette
Here is a new Salad Dressing recipe from Rhonda...
Raw Energy Balls
While eating raw vegan, you may be wondering wh...