2 cans (15 oz each) kidney beans, rinsed and drained
1 can (15 oz) black beans, rinsed and drained
2 cans (15 oz each) diced tomatoes
1 large red onion, diced
4 celery ribs, diced
2 red, orange, or yellow bell peppers, seeded and diced
2 carrots, grated or diced fine
1½ cup corn kernels (optional)
4 bay leaves
2 Tbsp chili powder
1 tsp cumin
2 Tbsp oregano
3 Tbsp molasses
1 Tbsp fresh cilantro, chopped
2 garlic cloves, peeled and minced
Celtic sea salt and cayenne pepper to taste
1 cup cool distilled water
Thickener: 3 Tbsp rice flour and 1 cup hot water

1. In a slow cooker combine all ingredients except thickener. Cook on low 6 - 8 hours.
2. Combine thickener until dissolved and add to slow cooker.
3. Cook 1 more hour and serve.

Shiitake Mushroom Miso Soup
As featured in Health News Issue #71.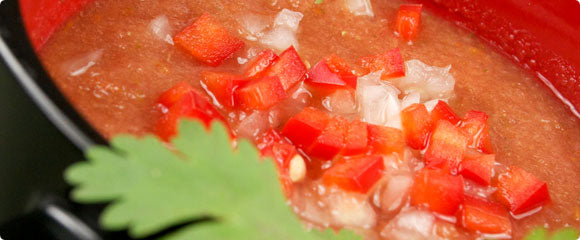 Raw Tomato Soup
This is a thick, hearty soup. From this basic r...