1½ cups vegetable soup stock
1 vegetable bouillon cube
¼ cup nutritional yeast (optional but adds a cheesy flavor)
1 Tbsp coconut oil
½ medium onion (diced)
¾ cup mushrooms (diced and optional)
1 small garlic clove (peeled and minced)
½ tsp dried basil
½ tsp dried marjoram
½ tsp dried oregano
½ tsp dried sage
½ tsp dried thyme
½ tsp unrefined salt (Celtic or Himalayan)
Pinch of cayenne pepper
2 Tbsp arrowroot powder or aluminum-free cornstarch
2 to 3 Tbsp cold water
1 package of frozen French Cut green beans (thawed)
1 canister of vegan French Fried Onions (French"™s brand has a minimal ingredient list)

1. Preheat oven to 350 degrees Fahrenheit.
2. Prepare all vegetables and have spices and other ingredients ready.
3. In a Vitamix or other high powered blender, place soup stock, bouillon cube, and nutritional yeast. Blend until the bouillon cube disintegrates. Pour into saucepan and heat but do not boil.
4. Place the onions and mushrooms in a skillet, with the coconut oil and saute until the onions are translucent. Add the herbs and spices and mix well.
5. Make a thickener by combining arrowroot or aluminum free cornstarch and cold water; mix well.
6. Pour into the bouillon mixture while stirring with a whisk as it will immediately begin to gel.
7. Quickly add the green beans, the sauteed veggies, and about half of the French fried onions; stir well.
8. Pour that mixture into a casserole and top with remaining French fried onions.
9. Bake for 10 to 15 minutes, or until the French fried onions begin to brown.
10. Remove from oven and serve while still hot from the oven.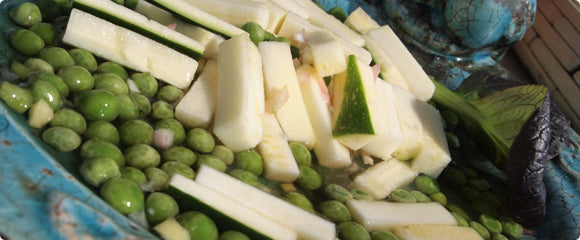 Burmese Zucchini and Peas
As photographed in Health News Issue #71 (May-J...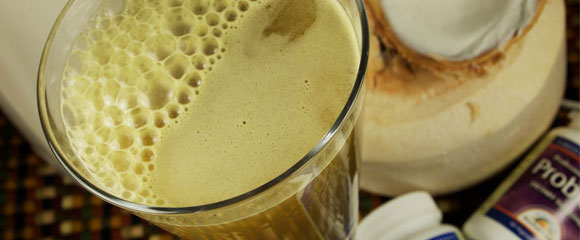 Workout Recovery Drink
After a hefty workout, your body needs to recov...