3 cups green cabbage (slice thinly)
3 cups red cabbage (sliced thinly)
1 large carrot (shredded)
2 cups Jicama (shredded)
1 small sweet red onion (sliced thinly)
¼ cup fresh cilantro leaves (minced)
Dressing
½ cup raw, unfiltered apple cider vinegar
½ cup extra virgin olive oil
½ cup fresh pineapple pieces
¼ cup raw, unfiltered honey
1 tsp fresh lime juice
¼ cup fresh cilantro leaves
½ tsp ground cumin
½ teaspoon Celtic or Himalayan salt
Pinch of cayenne pepper (or to taste)

1. Prepare all slaw ingredients, mix, and set aside.
2. Place all dressing ingredients in a Vita-Mix or other powerful blender and process until creamy.
3. Pour over prepared slaw, mix well, and serve (or refrigerate until served).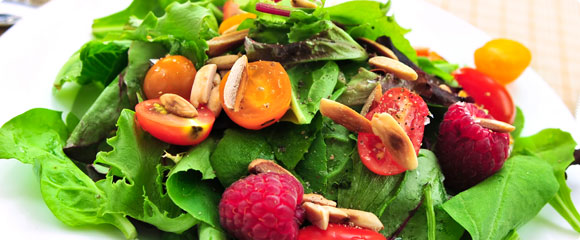 Rhonda's Raspberry Vinaigrette
Here is a new Salad Dressing recipe from Rhonda...
Raw Energy Balls
While eating raw vegan, you may be wondering wh...