1-1/2 lbs pickling cucumbers (soak in water 10 minutes)
¼ lb sweet onion (optional), cut into quarter-round slices
¼ lb cauliflower (optional), cut into thumb-sized florets
5-6 garlic cloves, chopped
2 Tbsp pickling spice (mustard seed, celery seed, dill seed [not dill weed], coriander seed, and cracked peppercorns)
1 bay leaf, crushed
1 bunch fresh dill (2 cups, packed), soaked in water 10 minutes
2 Tbsp coarse, unrefined sea salt (or 1-1/2 Tbsp ground sea salt)
4 cups filtered water
1 tsp chile flakes (spicy option), to taste

1. Trim both ends of cucumbers using a sharp knife. Soak in water along with the fresh dill. Drain and lightly pound dill stalks.
2. Crush bay leaf and place in bottom of pickling jar, then add pickling spices.
3. Add a third of fresh dill to bottom of pickling vessel. Lay the jar on its side.
4. Add whole cucumbers arranging in single layer. Fill gaps with cauliflower and onion. Add a third of the fresh dill. Repeat and add another layer.
5. Stand the jar up and add remaining ingredients until almost full.
6. Make a brine and dissolve the salt. Pour into jar until almost full.
7. Attach Perfect Pickler jar-top fermentor (available at Hallelujah Acres)
8. After four-day fermentation at room temperature (70-73 degrees F), remove Perfect Pickler, replace with regular lid, and refrigerate.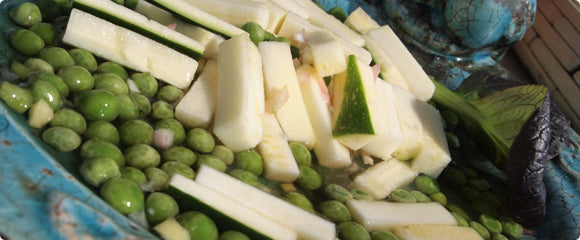 Burmese Zucchini and Peas
As photographed in Health News Issue #71 (May-J...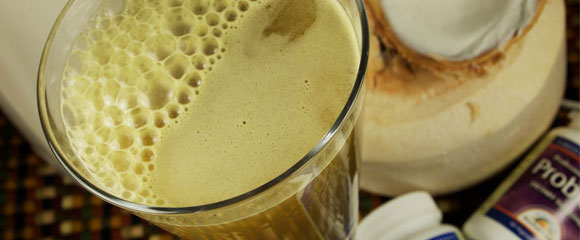 Workout Recovery Drink
After a hefty workout, your body needs to recov...