Fresh, raw almond butter
extra virgin olive oil

1. Sometimes for lunch I'll include a sandwich on organic whole grain bread. I make my own almond butter using whole raw almonds and grind them in our Vita Mix. The consistency is too dry, so when I scoop it out, I'll mix in some extra virgin olive oil. I haven't tried flaxseed oil, but I may soon try it.
2. (Editor's note: Fresh, raw almond butter can also be made in a Champion or Green Life/Green Power Juicer with the screen replaced by the blank.)
3. The other spread I'll sometimes use is organic fruit preserves.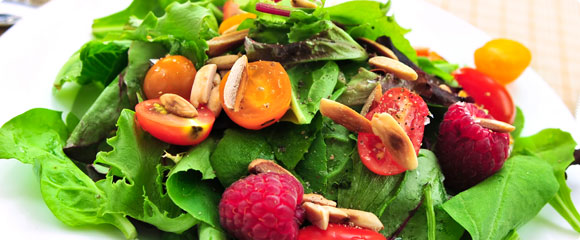 Rhonda's Raspberry Vinaigrette
Here is a new Salad Dressing recipe from Rhonda...
Raw Energy Balls
While eating raw vegan, you may be wondering wh...