2 cups basmati rice (cooked according to directions and seasoned to taste with unrefined sea salt, basil, and dill)
1 1/2 cups thinly sliced carrot strips
1 cup chopped onions
1 bunch scallions, cut in one inch lengths
1/2 cup raisins
1 Tbsp extra virgin olive oil
1 pkg (10 oz.) frozen sweet peas
1 cup pecan halves

1. Saute carrots, onions, scallions, and raisins in olive oil in large skillet, stirring frequently until vegetables just begin to brown (about five minutes).
2. Turn off heat. Add rice, pecans and peas and stir well.
3. You might want to add some more unrefined sea salt to the vegetables as they brown.
4. Distilled water can be added if the mixture is too dry.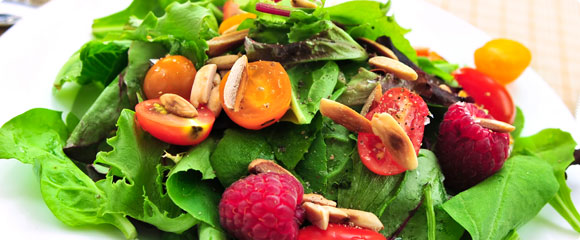 Rhonda's Raspberry Vinaigrette
Here is a new Salad Dressing recipe from Rhonda...
Raw Energy Balls
While eating raw vegan, you may be wondering wh...