4 cups of vegetable broth or water
4 cups tomatoes (diced) (or equivalent canned)
1 tablespoon chopped fresh basil (or teaspoon dried)
1 teaspoon dried oregano
2 carrots (chopped)
2 stalk of celery (chopped)
1 cup cabbage (shredded)
1 onion (chopped)
1 15 oz can garbanzo beans
1 15 oz can red kidney beans
3 cloves garlic (minced)
1 package whole grain pasta noodles

1. In a large soup pot combine all the ingredients except for the pasta.
2. Simmer over low heat for at least one hour, or until vegetables are tender.
3. Add the pasta
4. Bring to a slow simmer for an additional 20 minutes or until pasta is done cooking.
5. ENJOY!

Raw Holiday Celery Soup
Here's a savory soup to serve before the main c...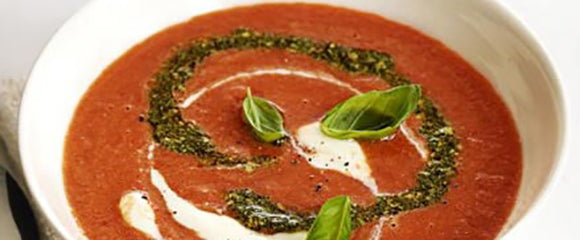 Blushing Tomato Soup
Flavorful and refreshing. This chilled soup is ...