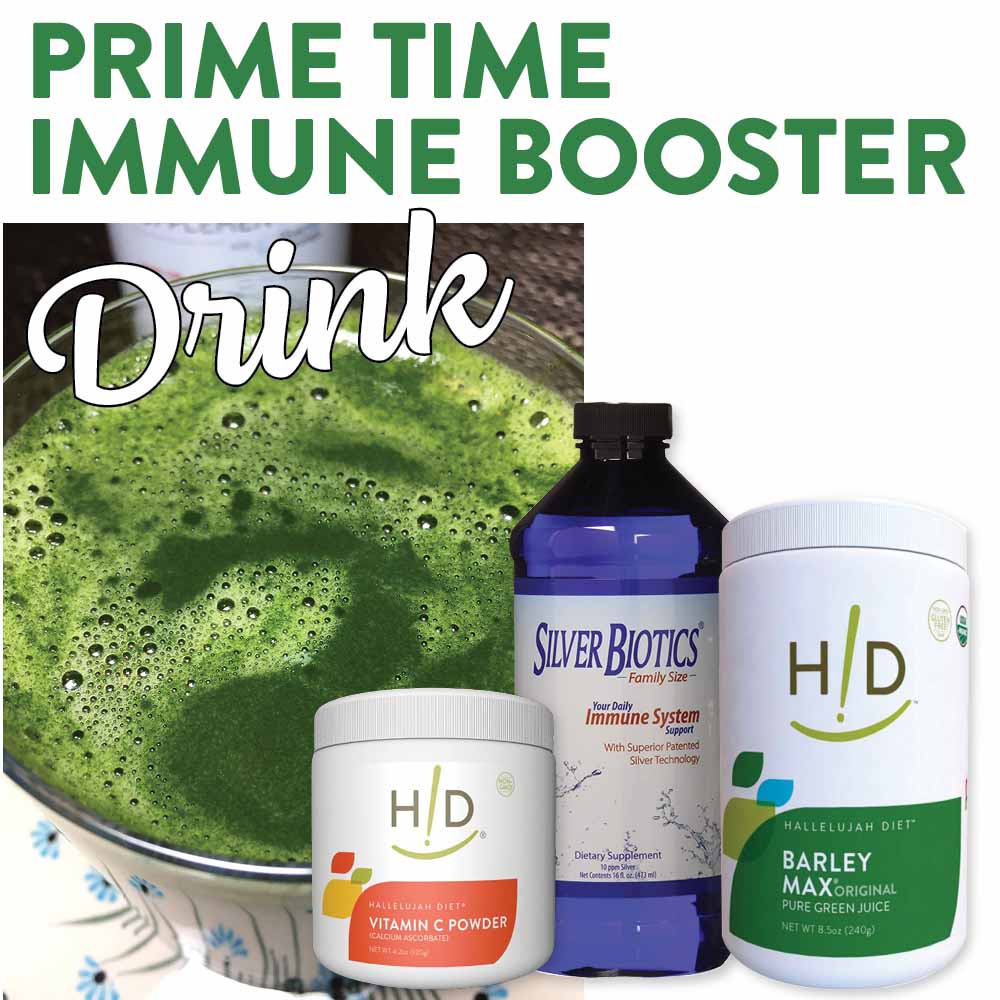 Prime time Immune Booster Drink
Choose BarleyMax:
Original
The Prime-time Immune Booster Drink Kit provides the 3 key ingredients. You'll just need to add some clean water to quickly create this powerful immune booster.
Vitamin C is essential for proper immune system function. Vitamin C is used by the immune system to kill pathogens. Many chronic health challenges cause a depletion of vitamin C. Did you know that humans are one of only a few mammals who cannot produce this essential vitamin? The human body also doesn't store much vitamin C, making it critical to consider supplementation.
Hallelujah Diet's Vitamin C Powder, Sodium Ascorbate, provides vitamin C in a non-acidic buffered form that is gentle on the stomach. It can be used in high doses spread throughout the day. During times of high vitamin C depletion, (such as when you have a bacterial or viral infection) a person can take up to 1 teaspoon (which is 4 servings) every 4 hours during the day to keep their immune system primed with vitamin C. Vitamin C at 4-12 servings (a serving is 1/4 tsp.) a day can help optimize vitamin C levels when demanding health challenges arise.There may be no other essential nutrient, that when supplied in optimal quantities, that can support the body's innate self-healing the way vitamin C can.
(Hallelujah Diet also sells a liquid Liposomal vitamin C. The liquid version could be used in this drink in the place of the powdered C that comes in this kit. However, if a person wants to use vitamin C multiple times a day, then using the powdered form in this kit is much more economical.)
The Prime-time Immune Booster Drink Kit includes a 240 serving container of Vitamin C Powder!
Silver Biotics supports the body when the immune system is battling bacterial, viral, or fungal issues. For maintenance and preventive measures, 1 teaspoon of Silver Biotics a couple times a day may be plenty.  If an active infection is  present, consuming 1 teaspoon around every 4 hours, up to 6 times a day would be a much more assertive approach. These are simply guides to consider. Kit includes a 16 oz. bottle of Silver Biotics.
BarleyMax is low temperature dehydrated juice from organic barley grass and alfalfa grass. After fresh vegetable juice, BarleyMax is simply one of the very best foods to support optimal health. It is rich in chlorophyll and the "grass juice factor". Contains natural living enzymes and makes a great concentrated superfood to consume multiple times daily. Hallelujah Diet suggests taking 1 tsp. of BarleyMax 2 to 3 times daily on a regular basis. With an active infection or chronic issue, upping the amount to 6 servings a day will provide extra nutrition and antioxidants. These are guidelines only. Some people like to take 3 servings of BarleyMax at a time (that would be around 1 Tbsp. at once). BarleyMax is available in Original, Berry-flavor, Mint-flavor and Alfalfa-free. Kit comes with a Large 8.5 oz container of 120 servings.
The Prime-Time Immune Booster Drink, is to be customized to each person's preference. Here are 2 examples.
Drink example 1:
½ tsp. Powder vitamin C
1 tsp. Silver Biotics
1 tsp. BarleyMax
6 oz water
Drink example 2:
1 tsp. Powder vitamin C
2 tsp. Silver Biotics
1 Tbsp. BarleyMax
14 oz water
Basically, the 3 items in this kit are great to mix together. If you love the fresh robust taste of BarleyMax, you'll probably scoop in a little extra. If you like a more subtle drink, then you may enjoy the basic serving sizes on the containers. Enjoy YOUR preference once a day or multiple times a day. Your immune system is what you rely on to keep you well! Keep it boosted!
(If you need a shaker cup for quick mixing, click HERE  to purchase the Hallelujah Diet shaker cup.)
*Why iodine in not included in this drink:
Iodine is a fabulous immune booster. It is typically suggested to be taken first thing in the morning in a little distilled water and then wait 10 minutes before consuming anything else. Also, iodine is not taken multiple times throughout the day. On the Cancer Rescue Plan guide, it is suggested to be taken twice per day; 7am and 11am. Since the Prime-time Immune Booster Drink may be consumed around 4-6 times a day, iodine would not be taken that often.
Iodine can give some people a burst of energy. When taken earlier in the day, there is less chance for it to interfere with sleep at night.
Total 5 star reviews: 1
Total 4 star reviews: 0
Total 3 star reviews: 0
Total 2 star reviews: 0
Total 1 star reviews: 0
100%
would recommend this product
Reviews Loaded
Reviews Added