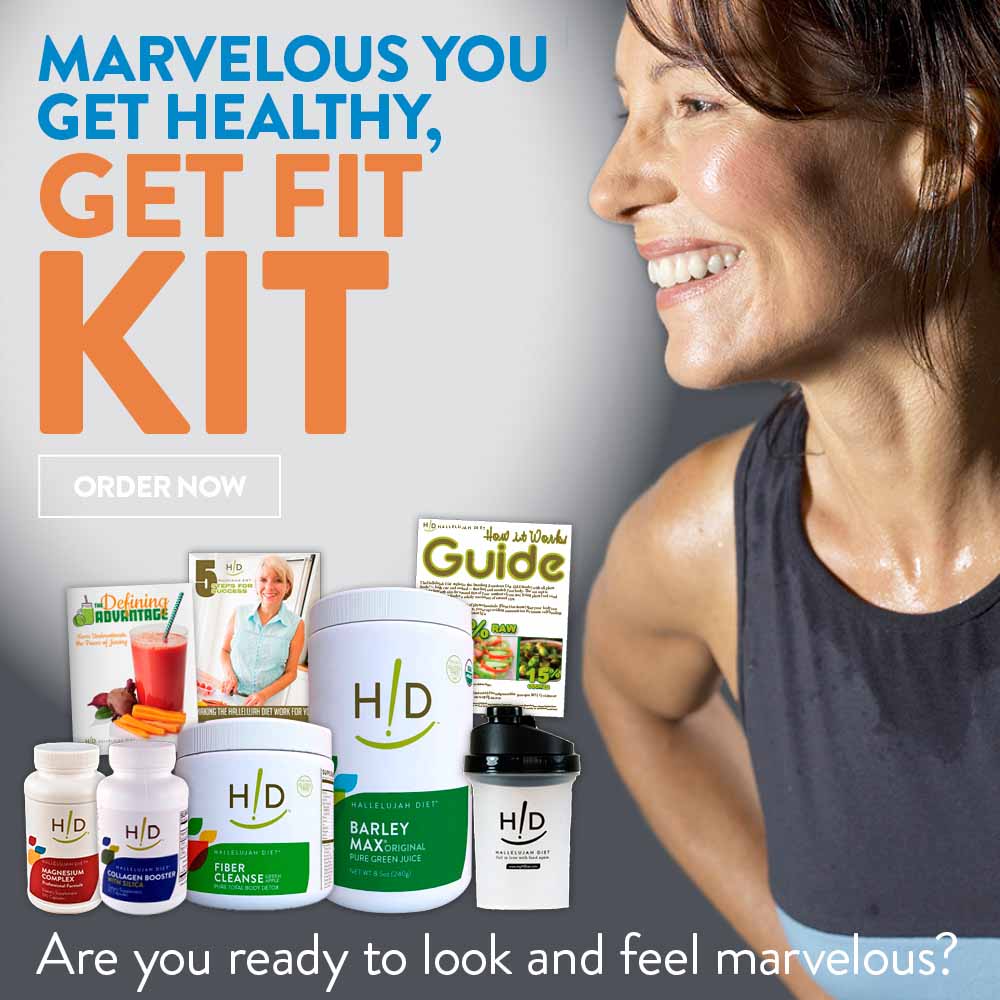 Marvelous You, Get Fit Kit
BarleyMax Choice::
BarleyMax Original
This kit is designed to supplement a healthy diet to empower the body from inside out.
First, chlorophyll-rich Barleymax: What is BarleyMax? BarleyMax is dehydrated juice from organically grown young barley grass and mature alfalfa grass.* Juicing removes all the fiber, leaving nothing but liquid and nutrition from the plant. Using a patented drying process, finely strained juice from these grasses is gently dehydrated at low temperatures (below 107°) to lock in nutritional potency, retain living enzyme activity and protect heat sensitive nutrients. There is no way the digestive tract could separate the fiber and extract all the micro-nutrients and trace minerals nearly as well as the meticulous juicing processes used when making BarleyMax. Devoid of fiber, BarleyMax gets to cellular level quickly and efficiently.
Why is BarleyMax so special? It is called the Grass Juice Factor. All the specific phyto-chemicals that have played such a profound role in barley grass down through the ages have yet to be identified. We do know this dark hardy green juice powder possesses a broad spectrum of nutrients that help detoxify, alkalize, energize and provide antioxidants to help the body defend itself from free radical damage. BarleyMax is a juiced super-food and living food for a living body.
BarleyMax is a key component of the Hallelujah Diet. We recommend partaking in BarleyMax 3 times a day, or 6 times a day if battling a serious health issue.
Secondly, Fiber Cleanse: Around 80% of the immune system is in the digestive tract. Fiber Cleanse is designed to help stimulate bowl function and move stagnated matter from the intestines. Achieving good bowel function is imperative to good health. This product also contains herbs that address parasites. Once this container is completed, a great follow-up is a couple tablespoons of ground flax seeds consumed on a daily basis.
Note: Fiber Cleanse should not be used longer than 3 months as you may become dependent upon it. Fiber Cleanse should not be used by pregnant or lactating women. Mix 1 serving with water or juice in the morning, or mid to late morning. Drink immediately after mixing. Ensure you stay well hydrated.
Thirdly, Collagen Booster with Silica: Helps beautify the skin, hair, and nails: brighter, stronger and flexible. Provides higher tensile strength hair follicles. Delays the apparition of wrinkles. Helps the skin to retain moisture for a radiant, plump and youthful looking.

Ceramide-pcd has also been shown in clinical studies to enhance skin moisture and reduce skin roughness within 8 weeks. The combination of these two products should deliver better effects than either one separately.

Cardiovascular - Improves circulation / lowers edema (water retention) by strengthening walls of arteries, veins and capillaries.
To learn more, listen to the webinar, "How Silicon Benefits You".

Here are a few amazing tidbits mentioned in the webinar:
Both calcium and silica are needed for strong bones. Silica alone enables bones to be more elastic and combined with calcium makes bones thicker.
Collagen is the structure of our skin. (What keeps it from being saggy and what keeps it smooth). It has been shown the higher the silica content of collagen, the more structure there is to each of the fibers. Silicais also integral in the production of elastine, which gives our skin elasticity.
Collagen is the main protein found in our connective tissue. Our ligaments and tendons are up to 90% collagen by dry weight. The video explains that the best way to boost collagen levels is to boost silica levels.
In the brain, silica binds with aluminum and extracts it from our body.
Silica helps the cardiovascular system. Healthy aortas are rich in silica.
There is general decline in silica with age. Losses are more intense from the ages of 35-40 onward. (Taking collagen supplements is ordinarily insufficient due to its instability outside the body. Silica provides a natural pathway for collagen creation.)
The two main reasons silica is included in the Kit are, because it is a component of healthy hair, nails and skin. More importantly, to help with flexibility and elasticity in the joints. With whatever exercise you choose; walking, tennis, zumba, resistance exercises, weights or whatever it is you enjoy, silica is important for flexibility of the connective tissues involved.
Fourthly, Magnesium: Magnesium is the fourth most abundant mineral in the human body. It is a cofactor in more than 300 enzyme reactions. Magnesium is the anti-stress, relaxation mineral. It is good for body systems that are too tight, cramp easily, and need to relax. Magnesium is depleted in perspiration and utilized at a faster rate during stressful situations.
We live in a very stressful world. Magnesium can be taken in the evenings or before bed-time, to help relax your mind and body. Getting adequate rest and a great night's sleep is one of the most important components to help us feel fantastic.
To learn more, you are invited to watch our webinar:
"Magnesium - An Undervalued Essential Nutrient".

Fifthly, How it Works Guide: Simple and straightforward layout of the Hallelujah Diet.
Sixly, 5 Steps for Success booklet: This booklet about the Hallelujah Diet contains 5 overarching steps for success and provides delicious basic recipes to get you started. By heeding the advice within, you may empower your body to do amazing things!
Sevenly, The Defining Advantage - Never Underestimate the Power of Juicing booket: Learn the basics of juicing in this colorful, easy to understand booklet. One of the main reasons for juicing is to provide copious phytochemicals in a form the body can absorb with ease. Juicing takes time and effort, but Hallelujah Diet believes it is well worth the commitment. You are urged to Never Underestimate the Power of Juicing. Contains 12 Juice recipes.
Eighthly, The Hallelujah Diet Shaker Cup: This BPA Free shaker cup works wonders to integrate BarleyMax and water. Helps eliminate tiny clumps. Makes enjoying BarleyMax quicker and more fun. The small amount of foam and bubbles created during the brief shake add a delicious bonus. A great little gadget to help you on your journey to a more vibrant you!
It's time to let the marvelous you shine. Get healthy, get fit, and empower the marvelous you.
Total 5 star reviews: 1
Total 4 star reviews: 1
Total 3 star reviews: 0
Total 2 star reviews: 0
Total 1 star reviews: 0
100%
would recommend this product
Great Starter Kit Makes You Feel Marvelous

Feel energetic and healthier, a great compliment to my Hallelujah Diet! Praise be to God!

Makes things easy

I needed a kit to just help me get started. I also liked the resources included- helped me choose the best juicer- one I'd never heard of before.
Reviews Loaded
Reviews Added