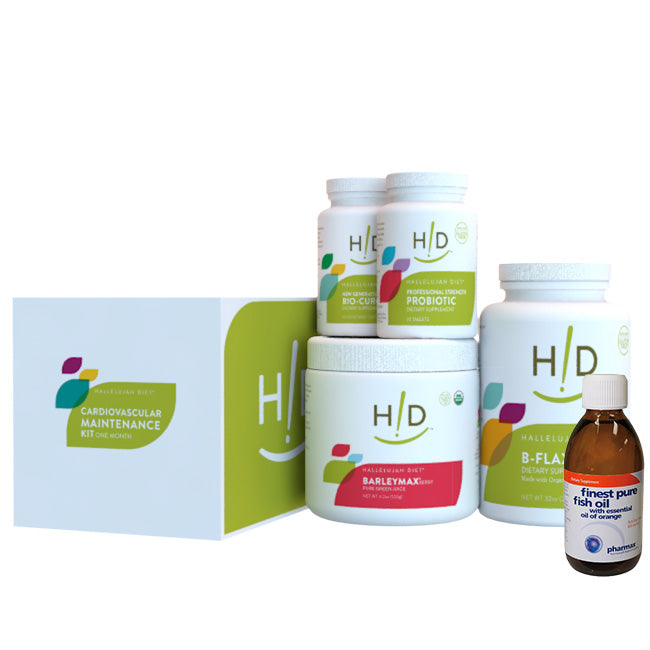 Cardiovascular (Heart) Monthly Rebuilding Kit (CS)
BarleyMax Choice::
BarleyMax Small Original
BarleyMax
Pharmax Finest Pure Fish Oil
Bio-Curcumin - Take one capsule daily.
B-Flax-D - a vital nutrition in a premium fiber source. Formulated specifically for long-term use, providing an easy transition for those who have been using Hallelujah Diet Fiber Cleanse. Fiber plays an important role in a well-balanced and plant-based food diet but plant-based foods are generally low in fat and calories. Fiber can be especially helpful for people trying to lose weight and prevent type 2 diabetes. Heart disease, cancer, diseases of digestion and type 2 diabetes occur less frequently among people who consume or include high-fiber diets.

B-Flax D contains the following ingredients: 
Organic Cold-Milled Flaxseed - an invaluable source of soluble and insoluble fiber, Omega-3 essential fats, and many other nutrients to help achieve and maintain optimal bowel function.
Vitamin B12 - helps to prevent nerve damage, aids in healthy cell formation and prevents anemia.
Vitamin D - assists the body in the absorption of important minerals like calcium.
Seleno-Yeast - is a source of selenium, a mineral with powerful anti-viral and disease-fighting properties. Seleno-yeast is not candida yeast and should not encourage the growth of candida. There are 120 mg of seleno-yeast per 30 g serving. Those with true allergic reactions to yeast should consider this before using this product.
Vitamin K2 - MenaQ7TM provides vitamin K2 (menaquinone), extracted and concentrated from natto without solvents. Vitamin K2 prevents arterial calcification and promotes strong bones by improving cross-linking of osteocalcin, a protein found in bones. The amount here has been clinically shown not to interfere with blood anti-coagulant medication.
Digestive Enzymes - It is important to take Hallelujah Diet Digestive Enzymes with both raw and cooked plant-based foods. Our Digestive Enzymes supplement contains live enzymes that help improve poor digestion and the absorption of nutrients from the foods we eat. If you eat cooked or processed foods, most of the enzymes in those foods are essentially destroyed, so it is especially important for you to take a supplement of living enzymes, to support digestive health in the body. Hallelujah Diet Digestive Enzymes helps your body break down and absorb nutrients to ensure you get maximum nutrition and disease protection from your food.
HIGHLY RECOMMENDED SUPPLEMENTS:
Antioxidant 
Flora DHA Flax Oil - one to two tablespoons
Vitamin B12 - B6 – Folate 
Professional Strength Probiotics
Vitamins D3/K2 – Best if taken with a little fat.
Nascent Iodine – Should have 200mcg of selenium throughout the day
Distilled Water/RO and after three months try adding Hydroboost to your diet
Simple Weekly Meal Plans recipe book, Volume 2
RECOMMENDED PRODUCTS & SUPPLEMENTS:
The Hallelujah Diet™ book by Rev. George Malkmus
Rhonda's Culinary Creations
Rhonda's Recipes for Life
Hydrochloric Acid
30 Exercise Essentials - Exercise Program
Getting Started On The Hallelujah Diet™ DVD Set

DIET
When treating cardiovascular issues or other health concerns it's critical that your body be in its best possible state. The Hallelujah Diet™ is the perfect way to jumpstart your body's amazing self-healing abilities.

When promote cardiovascular health we recommend the following:
Follow The Hallelujah Diet™. This is a meal plan that is 85% raw, 15% vegan cooked which is approximately 1 cooked vegan meal per day.
The Hallelujah Diet™ Meal Plan. Click here to download.
If on blood thinning medication, work with doctors to adjust medication to accommodate increased greens from diet – this may take a couple of weeks to adjust to medications.
Salad with every meal- this can be traditional, blended or smoothie.
Juice mix of 2/3 carrot and 1/3 greens
Limit fruit to no more than 15% of total dietary intake
Water (1/2 oz of liquid per pound of body weight – this includes juices). We recommend alkaline and/or distilled after three months.
Add Hydroboost to water to boost protection against free radicals, boost hydration to your cells, and boost nutrition.
*The statements and products referred to throughout this site have not been evaluated by the FDA. They are not intended to diagnose, treat, cure or prevent any disease or condition. If you have a health condition or concern, consult a physician or your alternative health care provider. Always consult a medical doctor before modifying your diet, using any new product, drug, supplement, or doing new exercises.