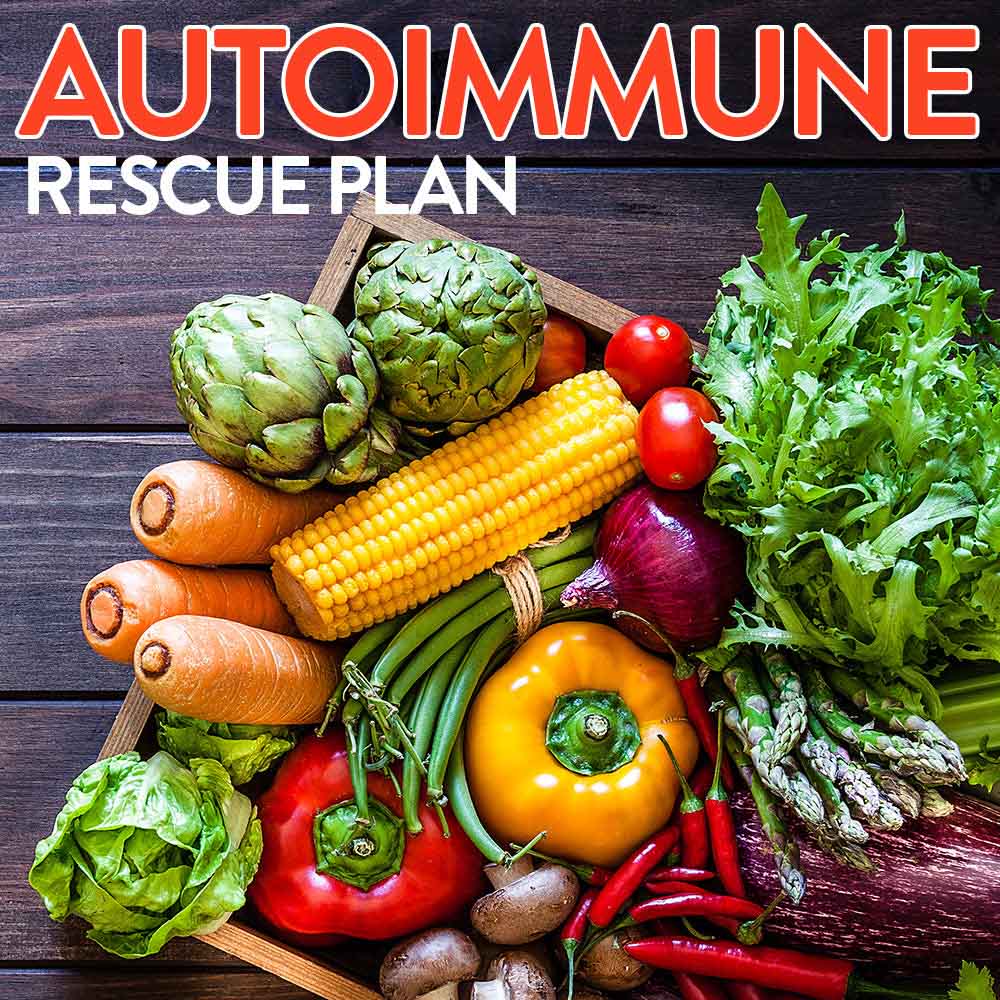 AutoImmune Disease Rescue Plan (CS)
BarleyMax Choice::
BarleyMax Small Original
An autoimmune disease is a condition in which your immune system mistakenly attacks your body. The resulting inflammatory response is the cause of many of the symptoms associated with autoimmune diseases.
The root cause of autoimmune diseases is a leaky gut. The barrier between your internal blood supply and your gut contents is one cell layer thick. The tight junctions between cells in the small intestine keep undigested contents out of the blood stream. But poor diet, especially a lack of fiber and too much sugar, and chronic stress cause the tight junctions to be not-so-tight, leading to what doctors call increased intestinal permeability. That means more undigested proteins and microbial remnants can get into your blood stream.
Your microvilli, the little finger-like protrusions into the gut lumen, also shrink and further limit your ability to absorb nutrition.
Your natural protective gut microbes live on fiber, and their population greatly decreases when you eat lots of meat and animal products. This further allows putrefactive and potentially pathogenic bacteria to thrive in your gut. If they get into your bloodstream you have a serious infection for your immune system to fight.
Because of a leaky gut more food particles and foreign compounds get into the bloodstream. Your immune system raises antibodies against these foreign substances, especially foreign proteins. Food allergies emerge and the list of "Don't Eat This" keeps getting longer.
Unfortunately, there are proteins out there that look like our own proteins (called molecular mimicry) and the antibodies meant to attack foreign substances also attack our own proteins. This gives rise to autoimmune diseases, of which there are many dozens of different types.
The immune system normally guards against germs like bacteria and viruses. When it senses these foreign invaders, it sends out an army of fighter cells to attack them. Normally, the immune system can tell the difference between foreign cells and your own cells.
In an autoimmune disease, the immune system mistakes part of your body — like your joints or skin — as foreign. It releases proteins called autoantibodies that attack healthy cells and causes inflammation in the body. Inflammation is at the root of most, if not all, autoimmune disease and can target one organ or the entire body.
A specific disease susceptibility may be inherited through genes or arise from environmental factors such as infections and exposures to chemicals or solvents. Women are more likely than men to be diagnosed with an autoimmune disease. There also is a higher rate of incidence of some autoimmune diseases in the African-American and Hispanic populations.
The Standard American Diet is a suspected trigger of this health epidemic. Eating high animal-fat, high-sugar, low-fiber, no vegetables and highly processed foods has been linked to increased intestinal permeability through countless scientific research studies. The immune system outside of the gut is put on high alert, giving rise to an inflammatory state throughout the body, kind of like having the chronic flu.
This is why you have achy joints, feel tired all the time, have poor overall health, and have so many other ailments that negatively affect your quality of life.
However, it is possible to reverse the negative effects of an autoimmune disease.
Eliminate the cause and the curse will go away.
Through specially formulated and curated nutritional supplements, you can improve your body's immune response and support the body's efforts to reverse leaky gut and increased intestinal permeability. You can live a healthier, longer, and more vibrant life.
Here at the Hallelujah Diet we believe in putting only pure, plant-based foods into our bodies to activate its powerful self-healing abilities. With our Autoimmune Disease Kit, you are taking back control in improving the overall quality of your life.
In the Autoimmune Disease Kit, you will find the following supplements to nourish your body back to a healthy and vibrant state:
BarleyMax®
Fiber Cleanse
Hallelujah Diet Omega-3 Fish Oil
Vitamin D3 with K2
Magnesium Complex
Professional Strength Probiotics
Nascent Iodine
Selenium/Glutathione Promoter
BarleyMax® provides your body with vitamins, minerals, trace elements, essential amino acids, antioxidants, live enzymes, and more that your diet is most likely not providing. The live enzymes and numerous micronutrients protect your cells from DNA damage. BarleyMax® is a potent supply of phytonutrients that the body can use to rebuild, replenish and detoxify.
Benefits may include:
Increased Energy
Elimination of Harmful Toxins
Stronger Immune System
Weight Loss
Better Circulation
Maintain Normal Blood Sugar Levels
Antioxidant Support to Quench Metabolic Inflammation
Gastrointestinal System Relief
Fiber Cleanse provides a complete, full-body detox cleanse with a balanced blend of 28 herbs in a psyllium and flax seed base to help restore the colon to optimal functioning.
Benefits may include:
Restoration of Optimal Bowel Function
Elimination of Harmful Toxins
Stronger Immune System
Maintain Healthy Blood Sugar Levels
Helps Draw Toxins From Body Into Colon For Elimination
Supports Healthy Gastrointestinal Functioning
Note: Consult your doctor or pharmacist before using Fiber Cleanse if on prescription drugs. Pregnant or lactating women should not use fiber Cleanse. Do not use for more than two or three consecutive months.
The Hallelujah Diet Omega-3 Fish Oil is a medicinal food that everybody needs. There are long chain polyunsaturated fats in fish oil (EPA and DHA) that are not obtained in a pure, clean form elsewhere in the diet. These fats are incorporated throughout our bodies by design, and an absence of them requires the body to use inferior fats to try to fill their roles. EPA and DHA have been linked to better cardiovascular health, mental health, joint health, eye health, immune health and a normal inflammatory response to injuries and infections. These fats are critical for every organ and tissue in your body.
Vitamin D3 with K2 is a synergistic combination to maintain healthy calcium levels in the body. Vitamin D3 controls the absorption of calcium into the blood. Vitamin K2 controls where that calcium lands in the body. Vitamin D3 is critical to the proper function of the immune system, and low levels of vitamin D3 have been associated with higher risk of many autoimmune diseases. Optimal levels of vitamin D3 appear to help the body balance its immune response so that acute needs for inflammation are met, like when fighting infections, without leading to chronic ongoing inflammation when the acute need is past.
Benefits may include:
Balanced Immune System Response
Supports Optimal Bone Health
Supports Optimal Mental Health
Supports Healthy Cognition
Supports Optimal Cardiovascular Health
Supports Proper Deposition of Calcium, not in soft tissues
Magnesium Complex is a blend of four bioavailable forms of magnesium. It is one of seven essential macro-minerals that need to be consumed in relatively large amounts through our diet or supplementation. Magnesium is a cofactor in over 350 different enzyme reactions, including energy production. About 80% of the USA population is deficient in magnesium. Magnesium is the anti-anxiety, flexibility, relaxation mineral.
Benefits may include:
Promote Bone Health
Supports Optimal Cardiovascular Function
Supports Normal Blood Sugar Levels
Magnesium Shortage Can Be A Factor In Headaches
Lessened Premenstrual Symptoms
Reduced Anxiety
Supports Brain Health
Probiotics promote a healthy balance of gut bacteria linked to a wide range of health benefits. Probiotics inhibit the growth of harmful gut bacteria and may promote the production of natural antibodies for improved immune functioning. Up to 80% of our immune system resides in our gut. The microbes residing in our gut play a huge role in our immune system activity.
Benefits may include:
Supports Digestive Health
Balanced Immune System Activity
Weight Loss
Supports Optimal Mental Health
Supports Normal Intestinal Permeability
Sufficient levels of Iodine are essential for normal thyroid function. The proper functioning of every gland in the body—tear glands, saliva glands, sweat glands, lymph glands, the pancreas, breasts and ovaries in women, and the prostate gland in men—are dependent upon healthy levels of iodine.
Benefits may include:
Healthy Thyroid Functioning
Balanced Immune System Activity
Powerful Antioxidant Support
Cell Detoxification
Selenium/Glutathione Promoter is an essential mineral with a vital role in the healthy functioning of the immune system. It is a powerful antioxidant, protecting cells from free radical damage. Selenium is important for the production of the antioxidant enzyme, glutathione peroxidase – the body's master enzyme.
Benefits may include:
Powerful Antioxidant for Quenching Metabolic Inflammation
Works Synergistically with Vitamin C
Supports Healthy Cardiovascular Function
Supports Optimal Brain Health
Healthy Thyroid Function
Stronger Immune System
Supports Respiratory and Lung Health
Total 5 star reviews: 1
Total 4 star reviews: 0
Total 3 star reviews: 0
Total 2 star reviews: 0
Total 1 star reviews: 0
100%
would recommend this product
Autoimmune rescue plan book, shown above

Why didn't I receive the book that is shown?
Reviews Loaded
Reviews Added