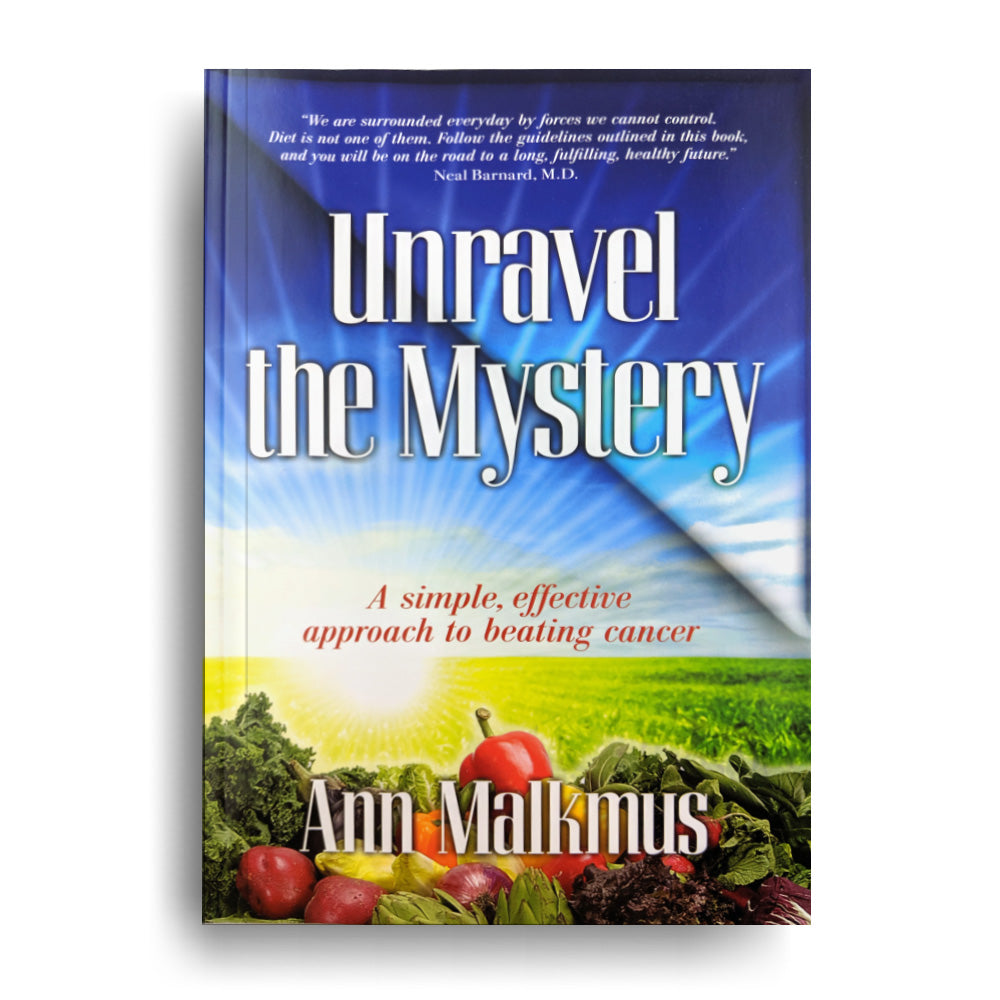 Unravel the Mystery - A Simple Effective Approach
Unravel the Mystery is a life-changing book that reveals the causes of cancer and how to harness the body's miraculous self-healing power through nutrition, lifestyle changes, and minimizing daily toxin exposure. It highlights today's leading research, answers key questions, and most importantly puts into perspective all the components necessary to help people restore a healthy immune system and beat cancer. This 350-page book provides practical "how to" steps that focus on removing the causes of cancer while maximizing immune system support. This information-packed book will assist individuals and families in their effort to both prevent and fight cancer.
Some important features include:
Toxins: Studies that show their danger and connection to cancer. This book reveals the sources of toxins that your body is exposed to daily and explains simple ways to reduce or eliminate many of them.
Diet and Nutrition: How to eat to live and use food to restore health. Includes ways to accelerate the immune system. Receive a daily lifestyle schedule and specifically selected food options to help the body fight cancer.
Cancer Recovery Checklist: Helps readers prioritize the most important steps to implement as they create personalized action plans.
Comprehensive Q&A: Posing and answering challenging questions and outlining an approach on how to discuss key issues with oncologists to make educated decisions.
Real Life Stories: Sharing inspirational stories of those who made Unravel the Mystery lifestyle changes and are living today
Cancer Prevention List: Mapping out information and aspects of diet and lifestyle choices that support better health results.
Support Suggestions: Additional recommendations for family, friends, and caregivers in ways to provide meaningful support to anyone with a cancer diagnosis.
This book is a culmination of references, resources, and recommendations that have never been combined into a single resource guide before. Learn how to unravel the mystery, unveil the strategy, and unleash the potential of the miraculous self-healing body.
Total 5 star reviews: 6
Total 4 star reviews: 0
Total 3 star reviews: 0
Total 2 star reviews: 0
Total 1 star reviews: 0
100%
would recommend this product
This book does help unravel the mystery of cancer

I purchased this book to learn more about cancer from a trusted source. Because the Table of Contents is very specific I have been able to read about what I happened to be interested in at the moment. There are bold headings throughout each chapter to help me choose what I want to read now or skip until a later time. The layout of the book is both easy on the eyes as well as set up to find information quickly. There is an extensive amount of information in this book, yet because of how clearly and concisely it is presented throughout the book it does not feel overwhelming. I also bought the beautiful companion recipe book at the same time. I am very pleased with both purchases.

Unravel the Mystery

This book is helping me make the plan to change and save my life.

Unravel the mystery a simple effective approach to beat cancer

Helpful and hopeful on the journey to beat cancer

Wake up call...

I cannot express how in-depth this book is and can't even begin to imagine how much time that was put dedicated to putting this book together. I have learned so much about what to put in my body and what not to. I am however working toward converting over to accomplish this feat, but it doesn't happen overnight. However I am making great strides and I'm truly thankful for this book. I have bought another book and gave it to my daughters mother to help her as well as my daughter to eat the right things and be healthier...Thanks again!!!
Reviews Loaded
Reviews Added